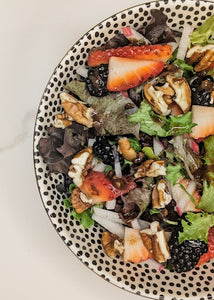 Salad:Happy Horseshoe Farm Salanova Salad MixHeifer International Mixed MicrogreensFlynn Farms PecansFive Acre Farms RadishSliced strawberries and blackberriesBalsamic Vinaigrette: 1tbsp local honey1/4 cup Extra Virgin Olive Oil3 tbsp balsamic vinegar2 tbsps dijon mustard1 tbsp of minced garlicDash of Worcestershire Sauce1/8 tsp PepperSprinkle of SaltMix together in a small containerInstructions:Place your clean lettuce and Microgreens in a bowl.Rinse and dry your strawberries and blackberries and slice them up into the salad.Add your pecans and radish.Drizzle the dressing over the top and toss, or serve it on the side. Enjoy! *Recipe and photos by Sheila Espinosa Martin.
---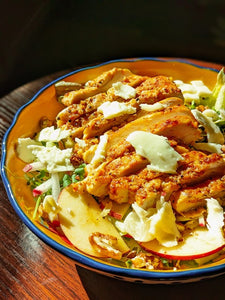 Grilled Chicken, Apple, and Pecan Salad with a Maple Vinaigrette             Salad Blue Mountain Vegetable Farm LettuceBerkeley Farm MicrogreensA & A Orchards AppleFlynn Farms PecansFive Acre Farms RadishWhite River Creamery Fresh Mozzarella CheeseGrilled chicken1-2 chicken breast from Bradford Valley FarmsSeason with salt, pepper, garlic powder, and smoked paprika to your likingMaple vinaigrette 1/4 cup plus 2 tbsp Apple Cider Vinegar1/4 cup Extra Virgin Olive Oil3 tbsp War Eagle Mill Pure Maple SyrupDash of Worsterschire Sauce1/8 tsp Pepper1/8 tsp Garlic powderSprinkle of SaltMix together in a small containerInstructionsCombine the salt, pepper, garlic and onion powder in...
---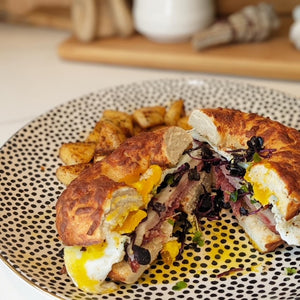 Farmstand Breakfast Bagel:-1 Morningside Bagel toasted (I used the Asiago Bagel)Heifer International Micro Greens tossed in a little olive oil and lemon juice with a sprinkle of salt and pepper-1 slice of Rabbit Ridge Farms Boneless Sliced Hickory Smoked Ham air fried to your liking-1 local egg over easy-1 slice of your favorite cheeseAssemble and enjoy! Pan seared turnips side:-1 small turnip chopped (from Five Acre Farms)Season with avocado oil, garlic powder, smoked paprika, salt, and pepperSear until golden crusted all over. *Recipe and photos by Sheila Espinosa Martin using ingredients from her...
---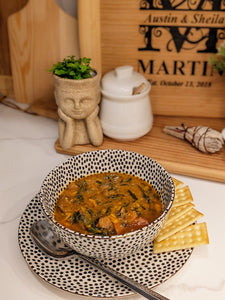 We are excited to partner with Sheila Espinosa Martin for seasonal recipes. She will be sharing photos and recipes of meals she makes with contents of her Farm Box each week. These recipes will showcase seasonal ingredients from our local farmers!  Sweet Potato Beef Stew 1 package of Ratchford Farms Boneless Stew Meat 1 package of Five Acres Farm roughly chopped carrots (from CSA box) 1 medium chopped yellow onion 4 stalks of chopped celery 8 oz of chopped mushrooms 1 table spoon of minced garlic 1 bundle of Happy Horseshoe Farms collard greens (from CSA box) 2 sweet potatoes...