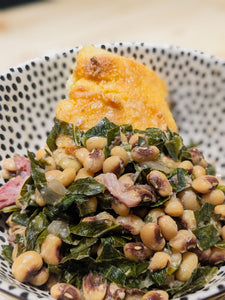 Crockpot Southern Purple Hull Peas w/ Ham Hock and Collard Greens Ingredients:-2 Smoked Ham Hocks (Rabbit Ridge Farms)-1.5-2 lbs Fresh Frozen Purple Hull Peas (I shelled mine and froze them to use later) (Happy Horseshoe Farms or Bay Farm)-32 oz Chicken or Vegetable broth (Rabbit Ridge Farms)-2-4 c Water, more or less as needed to cover the peas-1 bundle of collard greens, chopped (Happy Horseshoe Farm)-1 small onion, diced (Happy Horseshoe Farms)-1 tbsp of minced garlic (Shaky K Farm)Seasonings: (For this recipe, I seasoned to taste, so season to your liking with this one)-Chicken bouillon powder-Cajun seasoning (I used Slap...
---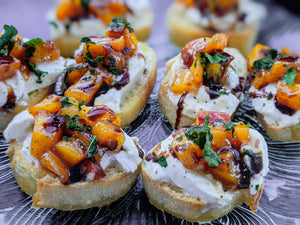 Caramelized Peaches & Burrata Crostinis Ingredients:Olive oil1 French baguette or crusty Italian bread, sliced into 1" pieces1 ball of fresh burrata2 local peaches, diced1 teaspoon butter1 teaspoon local honey1 tablespoon brown sugar1 teaspoon cinnamonBalsamic glaze6–7 large farm fresh basil leaves, cut into ribbonsSalt to tastePrepare the crostini:Drizzle some olive oil on the slices of bread and sprinkle some saltToast the bread for 1-2 minutes until golden but not browned.Prepare the caramelized peaches:Begin by making the caramelized peaches. Heat a skillet over medium heat. Add the butter. Once melted, add the peaches, brown sugar, honey, cinnamon, and a pinch of salt....
---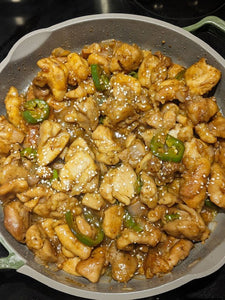 Jalapeno Chicken Ingredients:2 pounds boneless skinless chicken thighs, fat removed, cut into 1-inch pieces¼ cup cornstarch¼ teaspoon garlic powder¼ teaspoon kosher salt¼ teaspoon ground black pepper2 tablespoons extra virgin olive oil⅓ cup soy sauce⅓ cup water⅓ cup light brown sugar, packedJuice from 1 lemon2 teaspoons garlic, minced½ yellow onion, diced2 large jalapeno peppers, sliced into thin roundssesame seeds for garnishcooked white rice for serving   Directions: Combine chicken, cornstarch, garlic powder, salt, and pepper in a large mixing bowl. Toss to coat evenly on all sides. Set aside.Combine water, soy sauce, brown sugar, lemon juice, and garlic in a medium...
---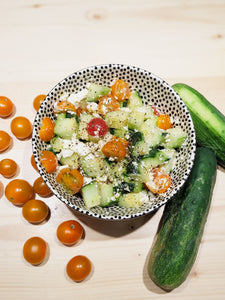 Summer Salad Ingredients: 1 cucumberHandful of cherry tomatoesExtra virgin olive oilJuice from 1 whole LemonFeta Cheese1 tbsp Dry ranch seasoningSalt & pepper Directions:Cut your cucumber into bitesize pieces and your cherry tomatoes into halves, place in bowlDrizzle the olive oil, add the ranch seasoning, lemon juice, feta cheese, to your liking and mix.Add salt and pepper, to taste.Serve immediately or chilled. Enjoy! *Recipe and photos by Sheila Espinosa Martin
---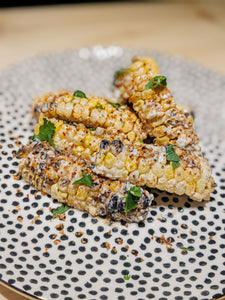 Grilled corn ribs, elote style! Ingredients:4 ears corn, shucked3 tablespoons avocado  oil, plus more for the grill grates1/2 teaspoon smoked paprika1/2 teaspoon garlic powderKosher salt and freshly ground black pepper, to taste2 limes, halved1/4 cup mayonnaise1/4 cup sour cream or Mexican crema1 small clove garlic, grated1/4 cup crumbled queso fresco1/4 cup fresh cilantro, finely choppedChile-lime seasoning, such as Tajín, for serving Directions:To make the corn ribs: Using a large chef's knife and a large steady cutting board, cut off the ends of the corn cobs to make them flat. Next, cut the cobs in half crosswise. Stand a cob on...