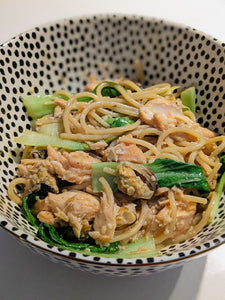 Seafood Garlic Noodles Sauce:-2 tablespoons soy sauce-1 tablespoon oyster sauce-2 teaspoons fish sauce-¼ teaspoon sesame oilNoodles:-4 tablespoons unsalted butter-8 cloves garlic, minced-6 ounces spaghetti from Pozza's Pasta-Baby Pac Choi from Happy Horseshoe Farm-¼ cup finely grated Parmigiano-Reggiano cheese-1 tablespoon chopped green onion, or to taste-1 pinch red pepper flakes (optional)Protein:-3 oz. cooked salmon-1 tin of Lightly Smoked Mussels in Extra Virgin Olive Oil (I used Trader Joe's brand)Bring a large pot of lightly salted water to a boil. Cook spaghetti in boiling water, stirring occasionally, until tender yet slightly firm to the bite, about 12 minutes.Stir soy sauce, oyster sauce,...
---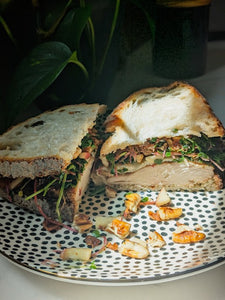 Grilled Chicken sandwich with Apple, Pecan, and Bacon Vinaigrette Ingredients:-Bradford Valley Farms Chicken Breast -1 tbsp of Fennel & Fire Organic Lemon Thyme-Garlic powder, salt, and pepper to taste-White River Creamery Fresh Mozzarella Cheese-BMB Creations Classic SourdoughGreens Salad:-Berkeley Farm Microgreens mix-Half an Apple, washed and diced-2-4 slices Bacon , cooked and crumbled-1/2 cup chopped Flynn Farms pecansBalsamic Dressing:-2 cloves garlic, minced-1 Tablespoon dijon mustard-1 Tablespoon balsamic vinegar-Splash of Worcestershire sauce-Splash of lemon juice-Drizzle of local honey-1/2 cup olive oil-salt and freshly ground black pepper, to tasteInstructions:Preheat the grill to medium-high. Add chicken and grill until cooked through, 6 minutes per...
---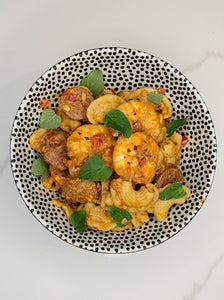 Cajun Pasta -One package of Rabbit Ridge Farms Andouille Sausage-1 lb. large shrimp, (peeled and deveined)-1 teaspoon Fennel and Fire Cajun seasoning, (or Creole seasoning)-½ teaspoon Happy Horseshoe Farm Oregano-2 tablespoons Olive oil-1 box of Zelli pasta of your choice-½ yellow onion, chopped-1 red bell pepper, chopped-4 teaspoons Fennel and Fire Cajun seasoning, (or Creole seasoning)-1 teaspoon brown sugar-2-3 cloves garlic, chopped-½ cup crushed tomatoes-1 cup chicken broth, sodium free-1 cup heavy cream-⅔ cup Grated Parmesan-Kosher salt and fresh cracked black pepper, (to taste)-1 tablespoon parsley, (chopped)Instructions To prepare the shrimp, season it with salt, pepper, Cajun seasoning, and oregano,...
---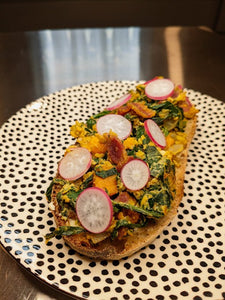 Bacon & Sweet Potato Scramble by Sheila Espinosa Martin Ingredients: -6 strips Rabbit Ridge Farm Smoked thick-cut bacon (½ pound), chopped-½ medium yellow onion, sliced-1 tbsp of minced garlic-6 cups chopped Peebles Farms sweet potato (1 large or 2 medium potatoes), cut into 1-inch cubes-1 bundle of Happy Horseshoe collard greens sliced-6 local eggs-Garlic powder-Onion powder-Paprika-1 tbsp of chicken bouillon-Salt and pepper, to taste-Slice of toasted Serenity Farm Breads sourdough bread-Heifer International French breakfast radishes sliced for garnish (optional)1. Heat a large (10 to 12-inch) cast iron skillet over medium-high heat and add the bacon. Cook, stirring frequently until the...
---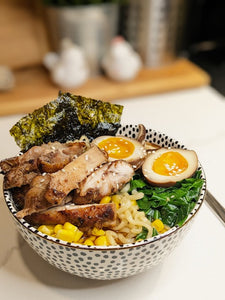 Chicken Ramen Recipe: Ingredients:-Bradford Valley Farms Chicken Thighs-Sliced Flynn Farms Shiitake Mushrooms-Sliced Happy Horseshoe Farm Collard Greens-Rabbit Ridge Farms Pasture-raised Chicken Bone Broth-Marinated Fresh Local Egg (Separate recipe)-Minced Shallot-Chopped Green onions-3 garlic cloves minced-Corn (optional)-Instant ramen noodles (just the noodles)-1/4 cup Soy sauce-1/2 tbsp Fish sauce (optional)-1 tbsp Chicken bouillon-Garlic powder to taste-Salt and pepper to tasteInstructions:Heat a large pot or dutch oven over medium high heat. Debone the chicken thighs and season with avocado oil, soy sauce, garlic powder, salt, and pepper. Then add to the pot. Saute until skin is crispy and meat is cooked through and reaches...