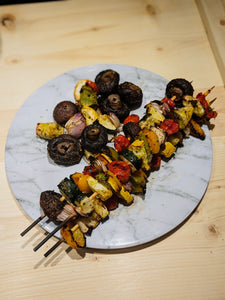 Grilled Veggie Skewers Ingredients:-2 medium Strack Farm zucchinis, cut into 1-inch slices or quarters-2 medium Strack Farm yellow squash, cut into 1-inch slices or quarters-½ pound whole fresh mushrooms-1 medium red onion, cut into chunks-12 cherry tomatoes-1 medium green bell pepper, cut into chunks-1 medium yellow bell pepper, cut into chunks-8 bamboo skewers, soaked in water for 20 minutes-⅓ cup olive oil-1 tablespoon of Fennel & Fire Herbes de Provence-½ teaspoon salt-⅛ teaspoon ground black pepper Directions:Preheat a grill to medium heat and lightly oil the grate. Alternately thread zucchini slices, yellow squash slices, mushrooms, onion chunks, tomatoes, and bell...
---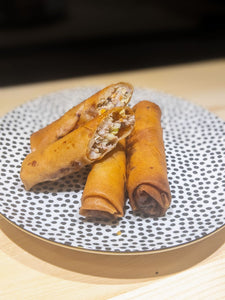 Lumpia Filipino Eggrolls Ingredients:-1 tablespoon vegetable oil-1 pound Rabbit Ridge ground pork-½ cup chopped onion-2 stalks of Heifer Ranch garlic scapes, sliced-½ cup Five Acre Farm carrots, minced-½ cup Happy Horseshoe Farm cabbage, minced-1 teaspoon garlic powder-1 teaspoon onion powder-1 teaspoon chicken bouillon powder-1 teaspoon soy sauce-1 teaspoon fish sauce-Salt and pepper, to taste-30 lumpia wrappers (I use spring roll wrappers from my local asian market)-1 local egg-2 cups vegetable oil for frying or as needed Directions:Heat 1 tablespoon vegetable oil in a wok or large skillet over high heat. Add pork; cook and stir until crumbly and no pink...
---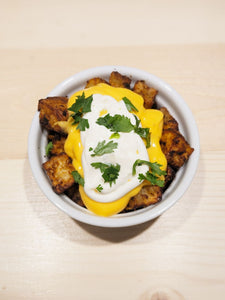 Taco Bell Cheesy Fiesta Potatoes Ingredients: -4 Happy Horseshoe Farm New Potatoes, diced-2 or 3 tbsp of Fennel & Fire Organic Fajita Seasoning (This is spicy so season to your liking!)-1 tbsp olive oilOptional:-Nacho cheese dip-Sour cream-Heifer International Cilantro   Directions: Peel and dice your potatoes in bite size pieces.Combine potatoes, olive oil, and seasoning until potatoes are fully coated.Cook in air fryer for 20 min at 400°.   Cook until it's at your desired crispiness. (I cooked it for an additional 10 minutes)Assemble with nacho cheese, sour cream, and garnish with cilantro. Enjoy! *Recipe and photos by Sheila Espinosa Martin
---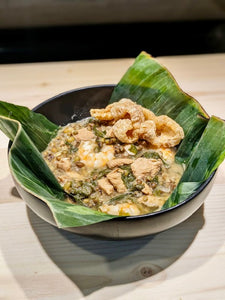 This is a traditional Filipino Dish called Ginisang Munggo with Chicken that Sheila made with some of the contents of her Spring Farm Box!  INGREDIENTS:-1 cup Mung/Munggo beans, cleaned and washed-6 to 8 cups of water-1 tbsp chicken bouillon powder or 1 cube-½ lb of peeled shrimp (optional)-1 Bradford Valley Farms chicken breast, thinly sliced-Salt and pepper to taste-4 garlic cloves minced-5 stalks of Blue Mountain Vegetable Farm Green Garlic, sliced-1/2 of a small onion chopped-1 tomato chopped-1 bundle of Happy Horseshoe Farm Swiss Chard, washed and sliced-Fish sauce to taste-Chicharron/Pork rinds for garnish (optional) DIRECTIONS:1. Sauté onions, green garlic, and...
---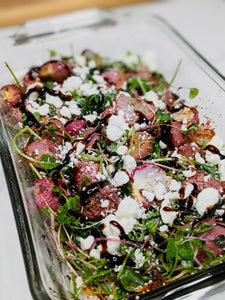 Roasted Radish Salad Ingredients: -1 bundle of Strack Farm Easter Egg Radishes in halves-2 stalks of Sycamore Bend Farm Green Garlic, sliced-1 tablespoon olive oil-½ teaspoon sea salt-¼ teaspoon ground black pepper-¼ teaspoon garlic powder-¼ teaspoon onion powder-¼ teaspoon red pepper flakes-¼ teaspoon smoked paprika-Berkley Farm Microgreens-White River Creamery Feta cheese-Balsamic glazeInstructions: Preheat oven to 400 degrees F.Using a sharp knife, slice the smaller radishes in half and quarter any larger radishes. Also, slice green garlic stalks.Place the sliced radishes and sliced green garlic in an oven-safe casserole dish.Pour the olive oil over the radishes and green garlic and sprinkle with...