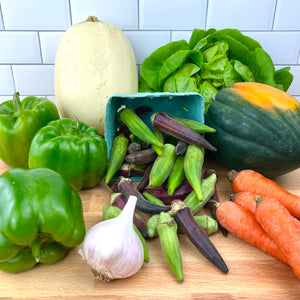 Bell Urban Farm
Fall Farm Box
Regular price
$250.00
$0.00
Unit price
per
Our Farm Box contains a seasonal assortment of fresh produce from local farms!
What is included in your Farm Box will vary from week to week with what is in season. These CSA (community supported agriculture)- style boxes are a great way to support local farmers, enjoy fresh, healthy veggies and experiment cooking something new each week! Each week you can expect to find $25 worth of produce in your box (about 5 to 7 different items). The cost of the 10 week Fall Farm Box is $250 plus tax.
We will email you a pick up reminder each week with a list of what produce is included in your box. Pick ups are Fridays, Saturdays and Sundays at the Farmstand. Pickups can be made during regular Farmstand hours; Friday 1-6pm, Saturday 9am-6pm and Sunday 1-5pm. (It is recommended that you pick up during these suggested times so your produce will be fresh)!
What can you expect in your Fall Farm Box each week? Fall fruit and veggies in Arkansas include leafy greens like lettuce, collards, kale, mustard greens and Swiss chard, root veggies like carrots, turnips, radish and beets, sweet potatoes, apples, pecans and winter squash like acorn, butternut and spaghetti squash. You may also see some garlic, onions, ginger and turmeric root.
Why sign up for a Fall Farm Box? Fall is back to school time and there is no better way to encourage your family to eat healthy, local meals by subscribing to our Farm Box! Enjoy locally grown, seasonal produce each week that has been hand picked just for you! Our produce is more nutritious and flavorful than anything you will find at the big box stores.
We are not shipping our Farm Boxes at this time. This is only available for in store pickup at the Farmstand at 2011 Tyler Street in Conway. We are happy to deliver your Farm Box curbside if you would like! Please include your email when checking out so we are able to contact you with pick up reminders.
Fall Farm Box Schedule: 
Begins September 8th and ends November 10th. Pick up a box each week at our Farmstand grocery store in Conway, AR!
Week 1 - September 8
Week 2 - September 15
Week 3 - September 22
Week 4 - September 29
Week 5 - October 6
Week 6 - October 13
Week 7 - October 20
Week 8 - October 27
Week 9 - November 3
Week 10 - November 10
Still deciding if a Farm Box is right for you? Please read our blog post about Farm Boxes to see answers to our most commonly asked questions!
---